For more than 85 years, Ketchum Mfg. Co., Inc., located in Lake Luzerne, New York, has been making millions of metal animal identification tags every year for customers nationwide.
What began as the brainchild of Henry Ketchum has become the epitome of the American dream. Henry, one of the two brothers who owned a small animal identification tag manufacturing business in Ottawa, Canada, started Ketchum. When Henry saw the need for an animal tag business in the northeastern United States he quickly moved to the States and opened up shop.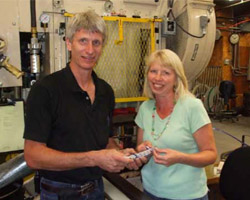 Today, with 13 longtime employees, Ketchum is one of four major suppliers of agricultural tags in the United States and has customers as far away as Poland, Turkey, Fiji and Australia. Family owned and operated, siblings Gary Powers, president, and Lisa Podwirny, vice president, currently head the company.
Powers and Podwirny are the fourth generation in the family to own the company since their great-grandfather, Otis Howe, and partner had purchased it back in the mid-1950s. Howe was one of Ketchum's original employees. Norman Powers, Jr., joined the company in 1965 and took over as president in 1983 when his father, Norman Powers Sr., retired. Gary and Lisa took over day to day operations in 1998 due to the terminal illness of Norman, Jr. (Jay).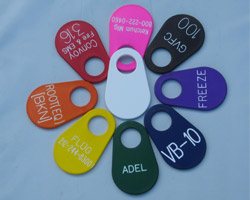 When Ketchum purchased the Dog Tag Manufacturing Division of Great Southern Manufacturing of Alabama in 1992 it increased its capability to make license and rabies tags for dogs and cats in addition to the metal ear tags the company has long made for cattle, pigs and sheep, along with leg and wing tags for poultry and wild birds. Ketchum is currently the only dog tag manufacturing company in the state of New York.
In an effort to offer full service to its customer, Ketchum manufactures several different types of steel hooks used to keep tags on the animal's collar as well as the pliers needed to apply the various livestock tags. The company also specializes in ankle bands for dairy cows, and animal tattoo equipment.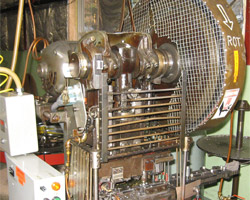 However, beyond animal ID tags, some of the more unusual uses of Ketchum tags are in jewelry, coral research, marking rows of grapes in vineyards, equine trail marking, labeling of cameras and other expensive movie production equipment, on telephone poles, firefighter accountability and crematory tags. Ketchum also makes tags for industrial purposes such as labeling the function of a particular valve on a piece of equipment and wrist tags, which can serve as proof of payment at events or belonging to a group.
We operate on a traditional work week Monday through Friday 8:00am - 4:30pm. During that time one of our friendly staff will be happy to help you. Please browse our website and feel free to contact us with any questions you may have.