Every dog and cat needs rabies vaccination tags in addition to their regular pet identification tags, and you can find exactly what you're looking for right here at Ketchum. Locally produced and manufactured in upstate New York, our rabies tags are built from the highest quality aluminum, brass or steel for lasting durability. Choose between our options for colors, sizes and shapes to find the exact rabies tags you're looking for.
200 piece minimum order. 
2024 Rabies Tags
Why Keeping Pet Rabies Tags Current Really Matters
When it comes to rabies tags and the well-being of their dog or cat, pet owners often wonder...
How a rabies tag protects their pet; and
Why the tag's shape and color change every year.
Your Pet's Health
The answer to the first question is easy: the tag itself doesn't protect their pet from rabies at all—at least not directly. Rather, every up-to-date rabies tag is imprinted with a number unique to the animal, along with contact information for the veterinary clinic that administered the rabies vaccine. It is the vaccine itself, of course, that provides immunity against the rabies virus in the event the dog or cat is bitten by or otherwise exposed to the saliva of an infected animal. The tag simply documents that the pet has been inoculated against the disease.
Your Pet's Rabies Tag
The answer to the second question has some history behind it. While individual owners may opt for a custom or "vanity" shape and/or color for their pet's rabies tag, it is important that they understand the significance and purpose of a given year's rabies tag design. Currently, as recommended by the National Association of Public Health Veterinarians (NASPHV), the internationally recognized standard by the most recent years is as follows:
2022 Orange Oval
2023 Green Bell
2024 Red Heart
2025 Blue Rosette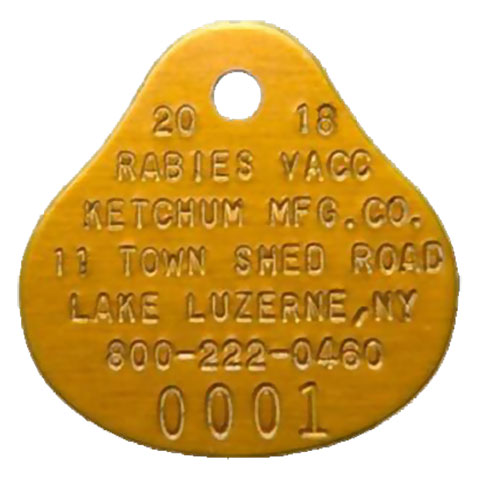 Orange Oval Rabies Tag (2022)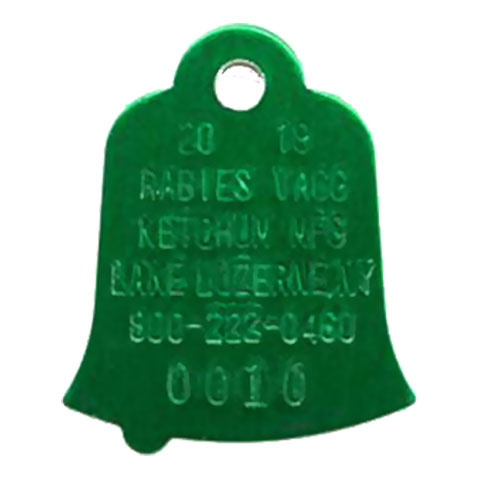 Green Bell Rabies Tag (2023)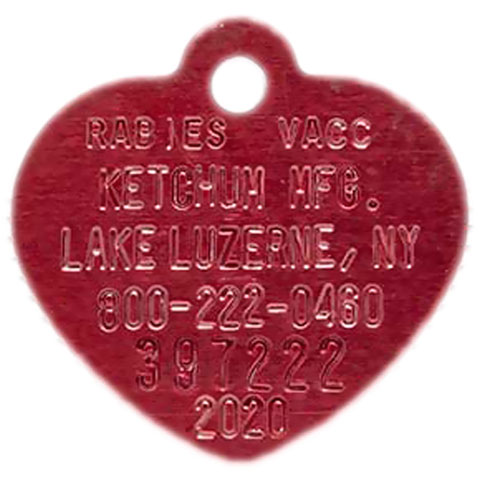 Red Heart Rabies Tag (2024)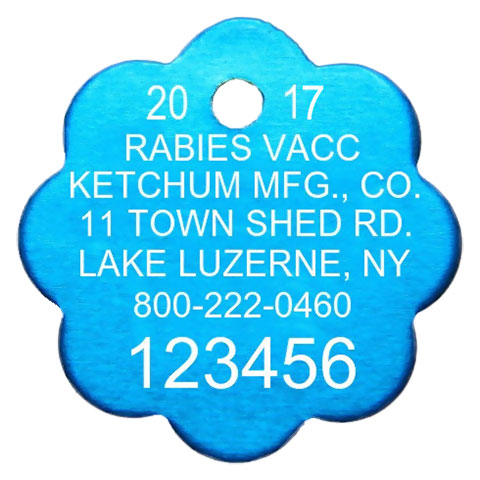 Blue Rosette Rabies Tag (2025)
As should be obvious, this system of shapes and colors does a full rotation every four years. Why does this matter? For one thing, at a glance it serves to remind pet owners and their vets to keep the animal's inoculations up to date.
More importantly, it helps local public health authorities and animal control officers to determine—from a distance—whether someone's stray pet has had their current rabies vaccine administered. For the latter reason, it is vitally important that you do not allow your pet to "collect" past years' rabies tags on their collar, as if the tags are some kind of honor badge array or jingly jewelry. Any misperception or confusion in this regard puts your pet at risk! No pet owner would be happy to learn their beloved animal was euthanized because it was acting suspiciously—and wearing the wrong tag.
Therefore, every time your dog or cat is inoculated against rabies, remove the old tag from its collar and replace it with the new, current year's rabies tag issued to you by your vet.
It's Not a Fashion Statement—It's Life or Death
If your dog or cat is strictly an indoor animal and never leaves the home, it may not matter which shape or color you choose for your pet's rabies tag. What does matter is that you get them inoculated regularly according to your state and local jurisdiction's regulations and recommended dosing schedule. Why? Because vaccination is safe—and it works!
One recent disturbing trend is that some pet owners, inspired by the human anti-vax movement, now refuse to get their animals inoculated at all. Adherents to this pet anti-vax movement are grievously misinformed; and their actions can have grave consequences for all, humans and animals alike.
Consider this: until Louis Pasteur developed an effective vaccine in 1885, the rabies infection had a 100% mortality rate. Immediately after his discovery, the number of deaths from rabies in Europe and the Americas plummeted. Nevertheless, about 60,000 people worldwide still die each year because of rabies (mostly in underdeveloped nations in Africa and Asia). Yet, in the United States, the fatality rate is just 1 or 2 per year—thanks largely to the efforts of federal, state, and local authorities in encouraging cat and dog owners to vaccinate their pets.
To learn more about the importance of rabies tags and what you can do to help wipe this disease off the face of the Earth, please see our FAQs or visit the CDC Rabies.
As this video shows, whether you are a vaccinator in a country where dog rabies is still a problem or a pet owner here in the U.S., we all have a crucial role to play in preventing this deadly disease. Vaccinate your dogs and cats!