The rules and regulations governing dog license tags in the U.S.A. may differ markedly from state to state, and even among different counties and municipalities within the same state. New York State dog license tags are no exception. That being said, the laws statewide in New York dealing with dog license tags are remarkably consistent.
Throughout New York State, every dog 4 months of age or older must be licensed. Furthermore, the licenses for dogs must be renewed each year, and the tag must be displayed on them at all times. The tag must have your name and address on it and, space permitting, your telephone number as well. Without an identifying tag on its collar, it is possible that your dog may be seized and treated as a stray. For that reason, you should always keep the contact details on the tag up to date.
If your dog gets caught without a license, prepare to be hit with a hefty fine. Pet owners can apply for a dog license at their local town or municipal office. Depending on where you live, however, the cost of licensing your companion animal can differ. In New York City, for example, licenses for spayed or neutered dogs of any age cost $8.50 per year. If your dog is not spayed or neutered, however, a license currently costs $8.50 if the dog is under 4 months old, but $34.00 if it is older than 4 months. Compare that to the $5.00 fee for licensing a spayed or neutered dog in the upstate city of Glens Falls (and $13.00 for an unspayed or unneutered canine).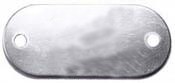 Catalog Number:113 SS
2 lines of small type
19 characters/spaces per line
3/16" numbers (up to 6 digits)
Height 3/4" Width 1-3/4"
Pricing starts at:
More Info
Why Do You Need a Dog License Tag in New York State?
The primary reasons are two-fold:
1.) The first reason benefits you and your beloved companion canine. If your pet strays from home and can't find its way back, the license number on the dog's tag helps animal control, a shelter, or a rescue organization quickly identify your dog and return it to you safely. Dogs that are licensed tend to be kept at the shelter longer than unlicensed dogs, which are the first to be euthanized if their owners do not quickly claim them.
2.) The second reason involves public health, which everyone agrees is a government responsibility. A dog cannot be licensed unless it is properly vaccinated, especially against rabies. An animal control officer or a Good Samaritan will be much more likely to want to handle and care for your missing pup if they know that it is healthy and free from rabies!